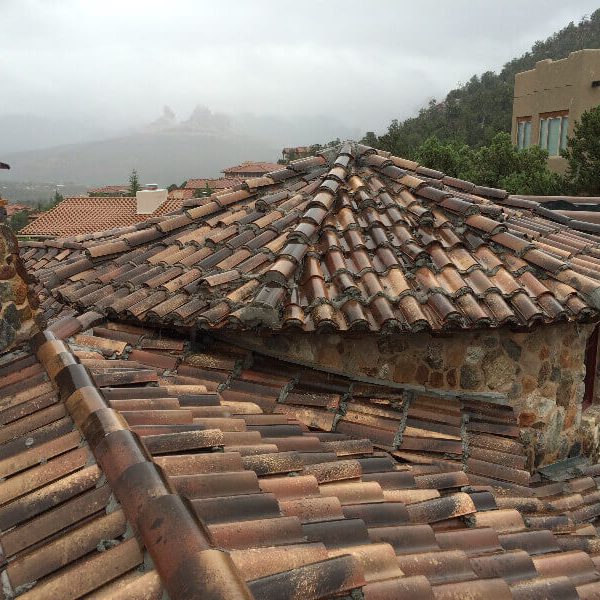 When it comes to roof tiles, there are many material options from which to choose including clay, ceramic, concrete, metal, polymer-sand, copper, composite, and more.  Choosing the ideal roof tile material for your home or business may depend on a variety of factors including budget, architectural aesthetic, climate, etc.  If you are considering concrete roof tile, there are no better than Braas Monier concrete roof tiles.
Braas Monier's concrete roof tiles are manufactured differently than other roof tile materials – they are slowly cured which makes them more durable and strong.  Concrete roof tile is made from a mixture of sand, water, cement, and pigment.  Unlike clay tiles that are fired, cement tiles are slowly cured at a temperature of approximately 60 degrees Celsius.  It is this curing process that makes them more durable.  Concrete tiles have been around for centuries and some of the oldest concrete roof tiles are still in use today which shows just how long-lasting they really are!    While concrete roof tiles can last centuries, the innovation and technology used in manufacturing concrete roof tiles continue to adapt and improve.  Braas Monier's latest innovation is a concrete roof tile that has Aerlox technology.  Aerlox technology transforms traditional concrete tiles by making them up to 40% lighter while maintaining the same level of durability that homeowners and contractors have come to expect from concrete tiles.
When it comes to tile options, Braas Monier has a lovely selection of concrete roof tiles from which to choose.  First, there are plain flat tiles that lend themselves beautifully to contemporary and geometrical design.  These plain tiles contain special pigments that assist the roof in reflecting 300% more infrared rays than traditional roof tiles and keeps the roof significantly cooler.  And, because the roof is cooler, there is reduced heat transfer to the structure on which the roof has been installed.  Additionally, Braas Monier produces low profile tiles that are aesthetically appealing and helps homeowners comply with regulations on the use of sustainable building materials.  Lastly, Braas Monier produces high profile tiles that are visually-appealing with an undulating shape that is classic and beautiful.  It is a very popular concrete roof tile option.  And, Braas Monier's concrete roof tiles reabsorb up to 20% of carbon dioxide emissions!  When considering a concrete roof tile, we at Hahn Roofing cannot recommend Braas Monier's concrete roof tiles enough.